Durable Storage Sheds in North Miami, FL and the Surrounding Areas
Unlock Clutter-Free Spaces With Premium Storage Sheds From Amazon Sheds!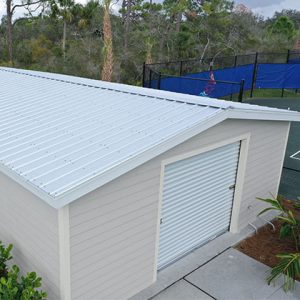 Embrace the solution to your storage woes with Amazon Sheds, the leading provider of top-tier storage sheds in Southwest Florida. With a rich heritage spanning over two decades, we have earned our reputation as the go-to destination for those seeking organized, clutter-free living spaces.
Living in Florida comes with its share of challenges, and one of them is the need for ample storage that can weather the elements. At Amazon Sheds, we have honed our craft to create storage sheds in North Miami, FL that are not only practical but also built to withstand Florida's toughest climate conditions. Our expertise, combined with our team of skilled artisans, ensures that each shed is a fortress for your belongings, providing protection and peace of mind.
Experience the Amazon Sheds Difference
Our commitment to quality is unwavering. We source the finest materials to construct storage sheds in Bonita Springs, FL and the surrounding areas that stand up to time and environmental stressors. From gardening tools to outdoor furniture, our sheds provide a secure haven for your possessions, ensuring they remain in pristine condition regardless of the weather outside.
What sets Amazon Sheds apart is our dedication to customization. We understand that your storage needs are unique, and our team is skilled at turning your requirements into reality. Our storage sheds can be tailored to accommodate various items, from bicycles to seasonal decorations, all while seamlessly integrating into your property's aesthetics.
The Storage Sheds in North Miami, FL That Are Built With Superior Craftsmanship
Beyond their functionality, our storage sheds are a testament to superior craftsmanship. They don't merely serve as storage spaces; they enhance the visual appeal of your property. With a range of styles, sizes, and finishes to choose from, you can find the perfect storage shed that complements your outdoor space.
Discover the joy of an organized life with Amazon Sheds. Our storage sheds bring order to chaos, offering a dedicated home for your belongings while elevating the charm of your property. Experience the transformative power of a thoughtfully designed storage solution that's built to last. Let us help you reclaim your space and bid farewell to clutter with one of our storage sheds in Bonita Springs, FL.