DOUBLE THE SPACE, FOR BIGGER NEEDS
The double-wide is our biggest shed; it is delivered in two halves and connected together on your property. This shed is DBPR and HVHZ approved to withstand 180 mph winds on our aluminum models, and 200 mph winds on our Vinyl, Hardie Panel or Hardie Board Lapsiding Models.
Exposure "C" Engineered 200 M.P.H.
Vinyl siding or Hardie Board / Lap Siding.
6″ Overhang with soffit (Some models)
29 G Metal Roof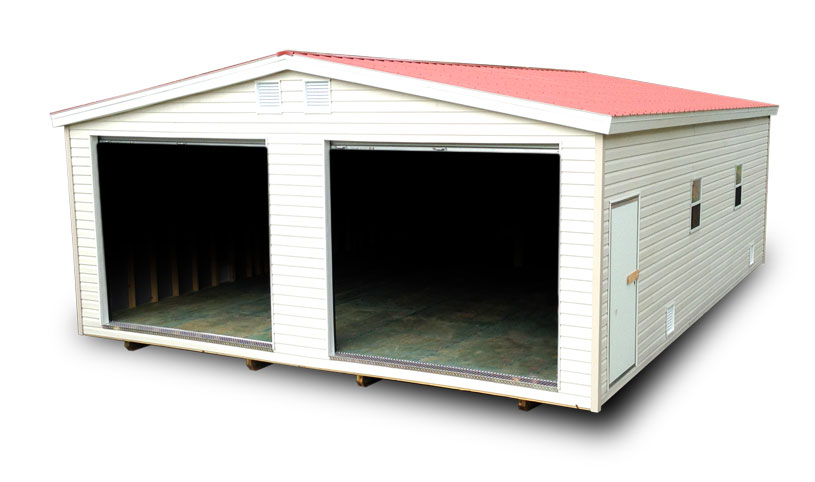 | | |
| --- | --- |
| 20' x 20' | 24' x 24' |
| 20' x 24' | 24' x 30' |
| 20' x 30' | |
VINYL SIDING
CHARACTERISTICS
0.040" thickness for impact resistance and durability.
Double 4.5" Dutchlap profile.
Medium gauge thickness for impact resistance and durability.
Deep, rich shadow lines provide depth and dimension.
Infused color that goes all the way through, won't chip or fade.
DuratronTM Vinyl Technology ensures durability and long lasting performance.
JamesHardie Lapsiding and Panels
CHARACTERISTICS
Too tough for pests and insects that can damage wood-based siding
Fire resistant and is recognized by fire departments nationwide
Resists the effects of water absorption, leading to a lower maintenance exterior
Engineered for Climate® to withstand hot, humid conditions and blistering sun in the South
COLORS
Choose your own color.
ALUMINUM
Classic panel profile for portable buildings Aluminum Thickness of .019 Gauge
METAL ROOF
CHARACTERISTICS
36" width coverage with 3/4" high ribs on 9" centers 29 gauge.
40 year paint warranty on the Val Spar Weather XL paint system.
Paint Sysytem is Energy Star efficient to keep energy bills low.
Environmentally-friendly because it is 100 % recyclable.
ALUMINUM
Classic panel profile for portable buildings Aluminum Thickness of .019 Gauge
Permatile Roof
CHARACTERISTICS
Energy Savings - Permatile features special infrared reflective coatings that meet Cool Color requirements.
Lightweight - Permatile panels are less than 1/10th the weight of traditional concrete tiles and 1/3rd the weight of asphalt singles.
Durable - The 26 guage steel panels are manufactured to withstand severe weather and the elements superior to other types of roofing.
Permatile offers you the look of tile with all the advantages of metal.
| | |
| --- | --- |
| 36"x72" | 36"x72" |
| 36"x80" 6Pnl | 36"x80" |
| 42"x72" | 42"x72" |
| 48"x72" | 48"x72" |
| 65"x80" | 65"x80" |
| 72"x72" | 72"x72" |
4'x6′
5'x6′
6'x6′
6'x7′
8'x7′
22"x27"
22"x36"
36"x36"
32"x14"
Wood Ramps
Provides easy access to the shed, ideal for tool's storage shed.
Electrical Packages
Ideal for a man/woman cave. Your shed will be ready to go and plug in your electronics.
Shelves
Ideal for storage oriented sheds if your'e looking to declutter your garage.
Loft
Maximizes the shed's storage capability to the max, allowing you to store even more!
Porches
Make your shed even more amazing with our Porsches options, your shed  will look beautiful anywhere at your property.
Insulation
Make your shed energy efficient and sound proof, ideal for every type of shed. Click to know more
QUOTE FORM
REECEIVE A RESPONSE IN MINUTES
The DoubleWide will meet your storage needs, no matter how big they are, 
The Double wide speaks for itself, it's 2 top quality sheds merged into one, that brings you the most spacious and comfortable storage option for your needs, no matter what they are. Whether if  it's a garage, a  heavy equipment storage shed, or anything in between, the double shed will do the job.
Our sheds can be custom built to your requirements, all windows, doors, and vents can be installed to your specifications. Shed heights can be raised or lowered to meet your needs.
The Double Wide shed is DBPR approved and can withstand 200mph winds.
Delivery, anchoring, leveling, and set up of our buildings are free within a 25-mile radius of our dealers (excluding the Florida Keys see dealer for details).
Amazon Sheds provides its customers a 5-year warranty covering materials, labor, leaks, leveling, and workmanship on all our products.
Our customer's satisfaction comes first, from the design process till the delivery of your shed, we will make every step of your shed journey a breeze.
We also offer a Rent-to Own plan, ask to one of our representatives for our rent-to-own plan in all of ur shed's models.
What people say about the Double Wide
A First class business. Excellent product, excellent service. Quality built sheds,
5 Star all the way around. THE best construction in the industry by far compared to the other shed companies we visited in the Fort Myers area. I was promised delivery on a certain date, it arrived. I was very pleased about the tricky placement in a tight area at our resort. The trailer they had was capable of accurately moving the shed in to the exact position without the use of manual labor, very nice. The team that installed it had obviously worked for Amazon for a long time, not a single mistake or hick up.